Files
CD.zip
(11.1 GB)
▼ show more 30 files
| | | |
| --- | --- | --- |
| | CD.zip | 1.1 GB |
| | [HR] Mahouka Koukou no Rettousei ED Ep 04 [1080p][x265].mkv | 9.2 MB |
| | [HR] Mahouka Koukou no Rettousei ED Ep 18 [1080p][x265].mkv | 30.2 MB |
| | [HR] Mahouka Koukou no Rettousei ED Ep 26 [1080p][x265].mkv | 26.9 MB |
| | [HR] Mahouka Koukou no Rettousei ED1 [1080p][x265].mkv | 39.4 MB |
| | [HR] Mahouka Koukou no Rettousei ED2v1 [1080p][x265].mkv | 53 MB |
| | [HR] Mahouka Koukou no Rettousei ED2v2 [1080p][x265].mkv | 53.1 MB |
| | [HR] Mahouka Koukou no Rettousei OP1 Ep 01 [1080p][x265].mkv | 76.5 MB |
| | [HR] Mahouka Koukou no Rettousei OP1 [1080p][x265].mkv | 47.1 MB |
| | [HR] Mahouka Koukou no Rettousei OP2 [1080p][x265].mkv | 43.3 MB |
| | Scan.zip | 1.9 GB |
| | [HR] Mahouka Koukou no Rettousei - Yoku wakaru mahouka! 01 [1080p][x265].mkv | 16.6 MB |
| | [HR] Mahouka Koukou no Rettousei - Yoku wakaru mahouka! 02 [1080p][x265].mkv | 12.6 MB |
| | [HR] Mahouka Koukou no Rettousei - Yoku wakaru mahouka! 03 [1080p][x265].mkv | 13.8 MB |
| | [HR] Mahouka Koukou no Rettousei - Yoku wakaru mahouka! 04 [1080p][x265].mkv | 14.5 MB |
| | [HR] Mahouka Koukou no Rettousei - Yoku wakaru mahouka! 05 [1080p][x265].mkv | 10.8 MB |
| | [HR] Mahouka Koukou no Rettousei - Yoku wakaru mahouka! 06 [1080p][x265].mkv | 15.1 MB |
| | [HR] Mahouka Koukou no Rettousei - Yoku wakaru mahouka! 07 [1080p][x265].mkv | 14.3 MB |
| | [HR] Mahouka Koukou no Rettousei - Hoshi Wo Yobu Shoujo [1080p][HEVC][5.1 channel opus].mkv | 1.1 GB |
| | [HR] Mahouka Koukou no Rettousei 01 [1080p][x265].mkv | 293.9 MB |
| | [HR] Mahouka Koukou no Rettousei 02 [1080p][x265].mkv | 227.1 MB |
| | [HR] Mahouka Koukou no Rettousei 03 [1080p][x265].mkv | 267.4 MB |
| | [HR] Mahouka Koukou no Rettousei 04 [1080p][x265].mkv | 192.6 MB |
| | [HR] Mahouka Koukou no Rettousei 05 [1080p][x265].mkv | 228.7 MB |
| | [HR] Mahouka Koukou no Rettousei 06 [1080p][x265].mkv | 267.3 MB |
| | [HR] Mahouka Koukou no Rettousei 07 [1080p][x265].mkv | 263.6 MB |
| | [HR] Mahouka Koukou no Rettousei 08 [1080p][x265].mkv | 243.7 MB |
| | [HR] Mahouka Koukou no Rettousei 09 [1080p][x265].mkv | 241.4 MB |
| | [HR] Mahouka Koukou no Rettousei 10 [1080p][x265].mkv | 248.1 MB |
| | [HR] Mahouka Koukou no Rettousei 11 [1080p][x265].mkv | 244.6 MB |
| | [HR] Mahouka Koukou no Rettousei 12 [1080p][x265].mkv | 250.8 MB |
| | [HR] Mahouka Koukou no Rettousei 13 [1080p][x265].mkv | 272.6 MB |
| | [HR] Mahouka Koukou no Rettousei 14 [1080p][x265].mkv | 255.2 MB |
| | [HR] Mahouka Koukou no Rettousei 15 [1080p][x265].mkv | 246.8 MB |
| | [HR] Mahouka Koukou no Rettousei 16 [1080p][x265].mkv | 320.8 MB |
| | [HR] Mahouka Koukou no Rettousei 17 [1080p][x265].mkv | 248.5 MB |
| | [HR] Mahouka Koukou no Rettousei 18 [1080p][x265].mkv | 246.5 MB |
| | [HR] Mahouka Koukou no Rettousei 19 [1080p][x265].mkv | 231.8 MB |
| | [HR] Mahouka Koukou no Rettousei 20 [1080p][x265].mkv | 251 MB |
| | [HR] Mahouka Koukou no Rettousei 21 [1080p][x265].mkv | 270.8 MB |
| | [HR] Mahouka Koukou no Rettousei 22 [1080p][x265].mkv | 253.6 MB |
| | [HR] Mahouka Koukou no Rettousei 23 [1080p][x265].mkv | 217.1 MB |
| | [HR] Mahouka Koukou no Rettousei 24 [1080p][x265].mkv | 277.4 MB |
| | [HR] Mahouka Koukou no Rettousei 25 [1080p][x265].mkv | 329.4 MB |
| | [HR] Mahouka Koukou no Rettousei 26 [1080p][x265].mkv | 297.6 MB |
Description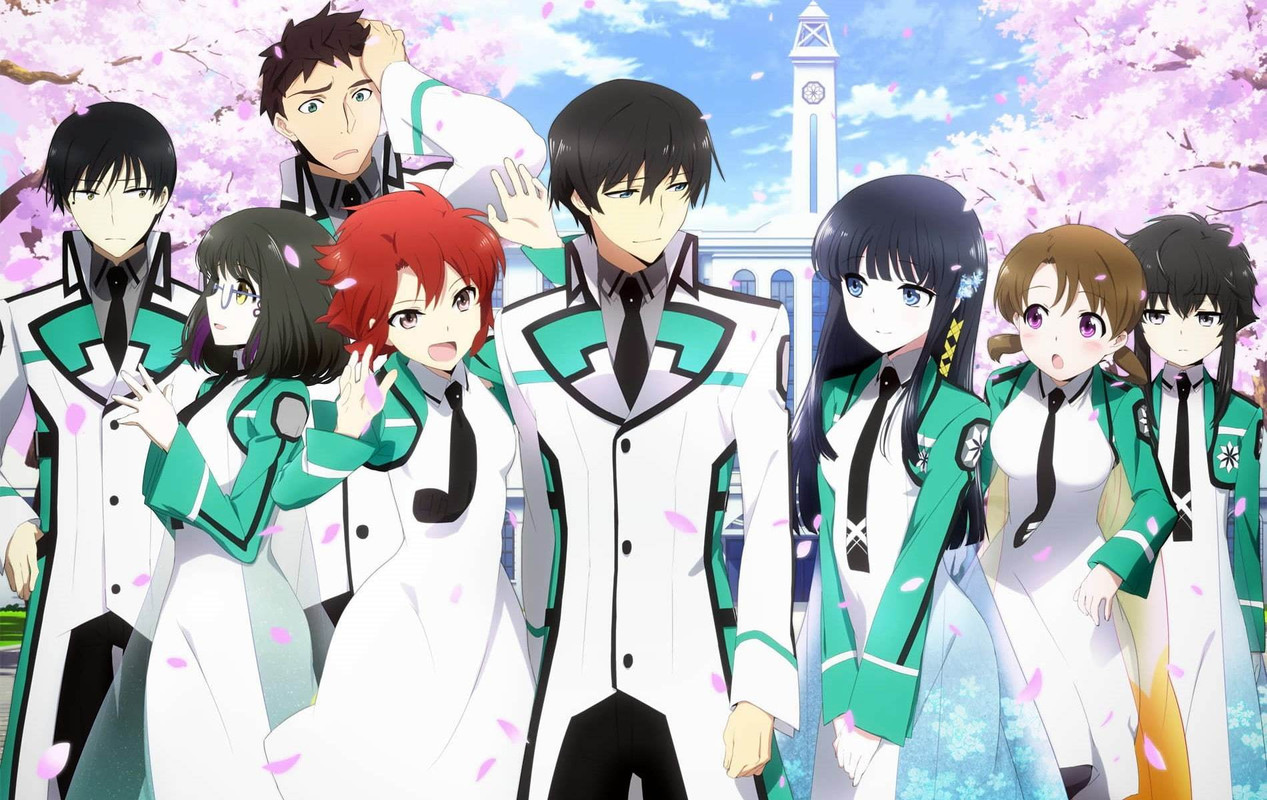 [HR] 魔法科高校の劣等生 | Mahouka Koukou no Rettousei | The Irregular at Magic High School (Season 1) (2014) [BluRay 1080p HEVC] ~SoulSpark
In the dawn of the 21st century, magic, long thought to be folklore and fairy tales, has become a systematized technology and is taught as a technical skill. In First High School, the institution for magicians, students are segregated into two groups based on their entrance exam scores: "Blooms," those who receive high scores, are assigned to the First Course, while "Weeds" are reserve students assigned to the Second Course.

Mahouka Koukou no Rettousei follows the siblings, Tatsuya and Miyuki Shiba, who are enrolled in First High School. Upon taking the exam, the prodigious Miyuki is placed in the First Course, while Tatsuya is relegated to the Second Course. Though his practical test scores and status as a "Weed" show him to be magically inept, he possesses extraordinary technical knowledge, physical combat capabilities, and unique magic techniques—making Tatsuya the irregular at a magical high school.
Video:
1920 x 1080
|
HEVC
x265
Audio:
Japanese
Opus 2 Channels Stereo
Encoder:
SoulSpark
Audio:
SouSpark
Subtitles:
English
[HR] 劇場版 魔法科高校の劣等生 星を呼ぶ少女 | Mahouka Koukou no Rettousei Movie: Hoshi wo Yobu Shoujo | The Irregular at Magic High School The Movie - The Girl Who Summons The Stars (Movie) (2017) [BluRay 1080p HEVC Multi] ~SoulSpark
In the story, the seasons have changed and it will soon be the second spring. Tatsuya and Miyuki have finished their first year at First Magic High School and are on their spring break. The two go to their villa on the Ogasawara Island archipelago. After only a small moment of peace a lone young woman named Kokoa appears before them. She has abandoned the Naval base and she tells Tatsuya her one wish.
Video:
1920 x 1080
|
HEVC
x265
Audio 1:
Japanese
Opus 2 Channels Stereo
Audio 2:
Japanese
Opus
Enhanced
6 Channels Surround
Audio 3:
Japanese (Commentary)
Opus 2 Channels Stereo
Encoder:
SoulSpark
Audio:
Doc_Ramen
Subtitles:
English
Related Torrents
| TORRENT NAME | SIZE | FILES | AGE | SEED | LEECH |
| --- | --- | --- | --- | --- | --- |
| | 250.89 MB | 1 | 4 days ago | 36 | 2 |
| | 200.4 MB | 1 | 1 week ago | 40 | 8 |
| | 193.5 MB | 1 | 2 weeks ago | 28 | 5 |
| | 222.8 MB | 1 | 3 weeks ago | 20 | 2 |
Tracker name
http://tracker.anirena.com:80/announce
udp://bt1.archive.org:6969/announce
udp://bt2.archive.org:6969/announce
udp://tracker.tiny-vps.com:6969/announce
udp://tracker.cyberia.is:6969/announce
udp://open.nyap2p.com:6969/announce
udp://tracker.opentrackr.org:1337/announce
udp://tracker.internetwarriors.net:1337/announce
udp://p4p.arenabg.com:1337/announce
udp://9.rarbg.to:2710/announce
udp://open.stealth.si:80/announce
http://tracker.gbitt.info/announce
http://tracker.opentrackr.org:1337/announce
http://tracker.files.fm:6969/announce
udp://tracker.zer0day.to:1337/announce
udp://tracker.leechers-paradise.org:6969/announce
udp://coppersurfer.tk:6969/announce
Torrent hash:
4049272699A225EAAAE79E5A9EC1065F6A267C87